Bodega CarinaE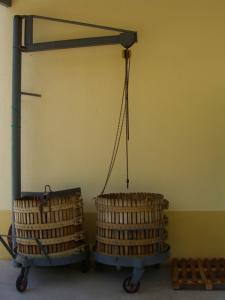 Though only 5km from Tempus Alba, winery CarinaE seems a whole world away. While many wineries try to be modern and technological, CarinaE embraces history and tradition, while providing a quaint and family-feel to their endevour. CarinaE is a 'boutique' winery producing 70,000 bottles of wine per year. We learned the official designation of 'boutique' is a winery that produces less than 100,000 bottles annually. CarinaE plans to eventually produce up to 100,000 bottles, but will shift in quality and make fewer young wines and more oak and bottle-aged ones.
CarinaE Wines
The winery is a project of French couple Brigitte y Philippe Subra, who came to Mendoza and created the winery in 2003. The name comes from a constellation only seen during the South American wine harvest.
The 2006 Syrah is delightful while the 2004 Prestige is perhaps worthy of a splurge.