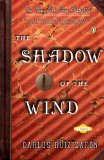 Another book about people who love books, like The House of Paper, The Shadow of the Wind combines mystery and intrigue against an interesting historic backdrop in this bestselling Spanish novel by Carlos Ruiz Zafón.
Set in Barcelona, the author's home, after the Spanish Civil War young Daniel Sempere is taken by his father to the Cemetery of Forgotten Books. Each visitor to the cemetery is allowed to choose one book, which he must keep and guard for life. The Shadow of the Wind by Julián Carax catches Daniel's eye and he takes it homes and reads it. The novel pulls Daniel in, and he becomes curious and later obsessed with learning more about Julián Carax. As he searches for other novels by Carax, he enters into a mysterious world, where the lines of fiction and reality are no longer clear, and Daniel's obligation to the Cemetery of Forgotten Books may prove to be difficult.
Zafón's subsequent book Juego del ángel (The Angel's Game) will be out in English in the spring of 2009.