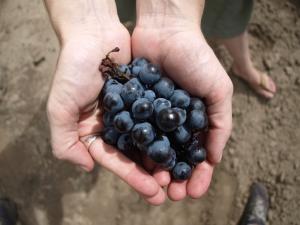 Visiting northern Argentina
Ever since a trip back in 2000 to the north of Argentina, I've been hooked. With its indigenous culture, beautiful red mountains, and tranquilo vibe, the only thing that could make the north better is wine. Oh wait, wine there is. Wineries in Cafayate have long been famous for making the best Torrontés available, but the quality of its reds are quickly improving as well. Bodega Mounier/Finca las Nubes is a favorite winery in Cafayate, but we visited some other interesting ones as well. Interestingly, most wineries in Cafayate are producing Tannat, a varietal made famous by Uruguay and seldom found in the rest of Argentina.
Organic wines at altitude: Bodega Nanni
A boutique winery specializing in making organic wines, this wine will leave you headache free. Its 400,000 bottles a year include Torrontés, Tannat, Cabernet, Malbec and its top wine is a blend called Arcanus. The family-run winery goes back 4 generations, and started when Pietro Nanni moved to Argentina from Italy, a heritage shared by many winemakers in Argentina.
I was unimpressed with the winery's varietals, but loved their Grand Reserve Arcanus, a limited edition (7,000 bottles a year) blend of Cabernet Sauvignon, Tannat, and Malbec. With caramel, vanilla and plum aromas, this oak-aged wine was a treat.
Bodega Esteco: formerly Michele Torino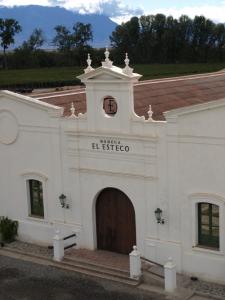 El Esteco has gone through many changes after its nearly 120 years in existence. Formerly known as Michele Torino, the winery was purchased in 1995 and is currently owned by multinational investors. The lines in order of price (and perhaps quality) include Elementos, Don David, Ciclos, and its top wine is Altimus, a blend that changes its make-up every year.
El Esteco is also home to a beautiful hotel and spa, a seemingly worthy splurge for a night or two of luxury in the area.
Bodega Etchart: makers of Etchart Privado, Ayres of Cafayate, and Etchart Gran Reserva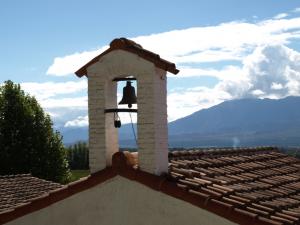 Another winery with a rich history in winemaking, Etchart was founded in 1850 and remains one of the most recognized Argentine wineries, both internally and internationally. The winery started out with a focus on making white wines, notably Torrontés, and its goal is to tip the balance making 60% red wines within the next few years. The winery's logo and symbol is its bell, that has marked time since Etchart's inception, ringing for the beginning and end of the work day, harvest time, and noting the passage of time.
The winery's total production is 4 million liters, a giant in Argentina. Its major export to the US is its Grand Reserve line, including a red blend named after the winemaker Arnoldo B. and a Chardonnay named after his wife, C. Rosa.
La Banda: makers of Vasija Secreta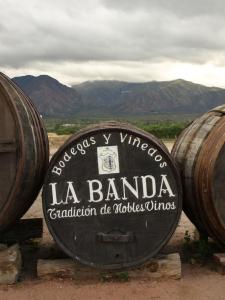 One of the oldest wineries in the region, this small winery is more interesting to visit for its grounds and small museum than for its wines.