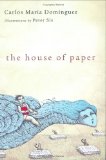 I've recently promised myself to stop buying books, even though perusing the shelves of my favorite bookstores is a favorite pastime now bordering a guilty pleasure. I couldn't resist purchasing when I ran across Carlos María Domínguez's short book, the house of paper. It's only fitting that the story is about book lovers, and just so happens to have a Latin American twist.
As readers, we spy on our friends' libraries, if only as a pastime. Occasionally we hope to find a book we want to read but do not have, or to find out what the animal opposite us has devoured. And at home, we leave a colleague sitting in the living room, and return to find him standing there, without fail, sniffing at our books.
-from the house of paper
This is but one of the many truisms that the house of paper uncovers as it delves into an exploration from intellectuals to collectors about why we love books. The story starts with the sudden death of Bluma Lennon, a Cambridge professor who gets hit by a car while crossing the street reading a book. Shortly after her death, a mysterious book arrives at her department and winds up in the hands of a colleague, who vows to return the book to its original owner. The quest leads him to Uruguay, where between bibliofiles and remote beaches, he finds the unexpected.