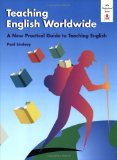 This teaching manual by Paul Lindsay is a wonderful resource not only for people interested in teaching English worldwide, but also people teaching in the US. It's an easy to read step-by-step guide for new language teachers, but I imagine it could be useful for seasoned teachers as well. The content of most Teaching English as a Foreign Language (TEFL) courses is covered in this book. So many language books are overly theoretical and academic while Teaching English Worldwide is extremely practical in teaching how to be a language teacher.
There are some grammar points specific to English, but the book covers strategies, theories, class activities, and ideas about language teaching that are beneficial for teachers of any language. The book also goes through how specifically to teach the four language skills: reading, writing, speaking and listening.
I will certainly be referring to this book for years to come!