From Boston to Patagonian by Train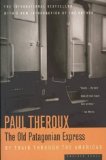 In his world travels, Paul Theroux has helped define the travel writing genre, including a book focused on travel to Central and South America in The Old Patagonia Express. The book tells the story of his 1970s journey from Boston through Latin America and ending up in Patagonia. He chooses rail travel for its slow nature and for the chance to see the countryside and how people who used the train lived, preferable to instantaneous air travel that moves you between two different spaces with no time to process or experience the transition.
The premise to the trip is interesting and includes many funny stories, although Theroux can get a little preachy and self-important at times, making himself look like the most adventurous and experienced while other travelers are mere foolish tourists. He does, certainly, make a great case that travel is more about the journey than the destination.
After reading The Old Patagonian Express, I have appreciated the unique nature of traveling by train much more.