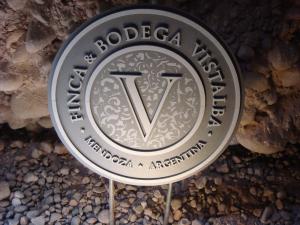 The Vistalba winery
Tucked into the Vistalba neighborhood of Mendoza surrounded by grapevines and olive trees, the Vistalba winery is cutting edge yet boutique. The Pulenta brothers sold Trapiche winery, one of the biggest wineries and most well known internationally, and brother Carlos Pulenta started his own project, Vistalba. The winery was built in 2002 and is extremely modern and well-finished.
Vistalba philosophy
Vistalba has some techniques that set it apart from other wineries, including:
- Concrete tanks for storing wine that do not include epoxy. The porous rough surface of the concrete allows for a small amount of oxygen exchange during the fermentation process. Many of the traditional wineries use concrete tanks with epoxy while other wineries use only stainless steel tanks. Vistalba also has stainless steel tanks it uses for some of its wines.
- Wineries often press off the skins and seeds of red wines right away and allow them to stay together for the fermentation process. Vistalba, however, keeps the skins whole through the entire fermentation process. Eventually, the seeds and skin separate naturally.
-Although it blends different grapes, Vistalba does not blend grapes from different regions. Some of its grapes are from Luján de Cuyo and its other vineyard is in the Valle de Uco, and the winery believes in preserving the distinct "terroir" (the soil and microclimate) from each area. To demonstrate the terroir of Luján de Cuyo, the winery goes so far as to have a 20 foot tall cross-section of earth to show its rocky, sandy elements.
-The winery tries to use gravity as much as possible rather than using pumps, and has built the winery in such a way that takes advantage of gravity.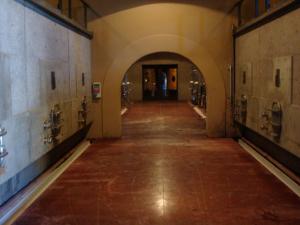 Vistalba wines
Vistalba has 2 different lines:
1. Tomero: named after the winery job of turning on and off the water supply to the vineyard. In an arid desert like Mendoza, the importance of water is fundamental to a successful harvest. Tomero grapes come from the Valle de Uco, which according to our tour guide produce produce fresh tasting fruit because of the drip watering system that keeps roots close to the surface of the earth.
2. Vistalba: is the more pricey line, and provides blends (or "corte" in Spanish): Corte A, Corte B, Corte C. Grapes come from the Luján de Cuyo region. Because of the depth roots grow to search for water, these grapes can have somewhat of a mineral element.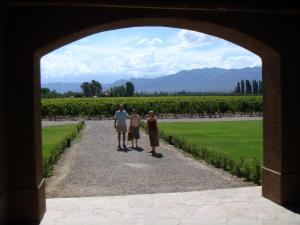 In addition to winery, Vistalba includes a world-class French restaurant, La Bourgogne, and luxury accommodations.