Visiting Montes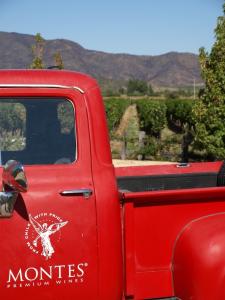 Bodega Montes has piqued our interest ever since hearing about it from the winemaker at Kaiken, its younger sister winery in Mendoza.
The facility and location of Montes is simply stunning. Nestled into the foothills at the recesses of a canyon in the Colchagua Valley of Chile, this highly modern gravity based winery blew us away. The facility is beautiful without being overwhelming. They use elevators to bring the grapes from delivery trucks to the roof for sorting where they are then dropped into tanks - a mix of stainless steel and oak tanks. During maceration, the wine is mixed over the sombrero or cap via draining it to a special tank, then raising that tank on an elevator, and again draining it back into the original tank. The elevator means that no pump is necessary for this activity. The barrels are further in the basement allowing, again, for gravity transfer.
Montes Wines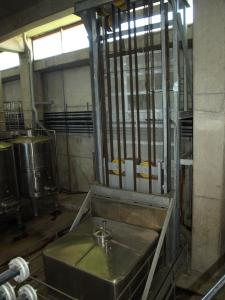 The "Alpha" line at Montes was our favorite. All of these were very well balanced, smooth wines with a strong oak characteristics that brought out flavors of butterscotch and vanilla.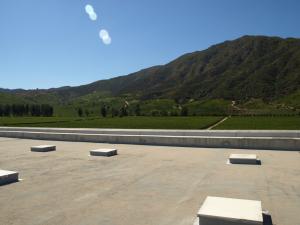 Montes top wines
The winery's top wines are Purple Angel and Montes Folley. Folley got its name by espousing conventional winemaking wisdom by planting Syrah in an untested region and planting it in its higher slopes, an expensive and time-intensive practice. The grapes of Montes supreme wines are grown in the hills above its vineyard, which allows them to limit water to the area. With limited water, the grapes focus on producing a limited amount of quality fruit rather than growing too much. Unfortunately, tasting of these gems wasn't included in the tour, but I would venture to guess they are worth their steep price.