Visiting Mont Gras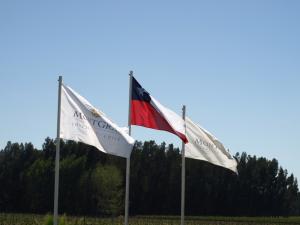 Of the Chilean wineries we visited, Mont Gras was a less inspiring tour. In comparison to the more authentic Viu Manent, their hacienda plays the role of "Disney Winery" being much more modern and lacking much of the charm. On the bright side, they guided us through the experimental section of their vineyards and let us taste several different grape varietals direct from the vine. Frankly, it all tasted like grapes to me - the biggest difference was in the ripeness and sweetness of each grape which varies from week to week. I couldn't taste a flavor difference in the grapes themselves.
Discovering Chilean Carmenere
It was on the vineyard tour the guide enlightened us with the story of Carmenere. Formerly used mainly for blending in France (like Argentina's Malbec and Uruguay's Tannat, winemakers in Chile originally confused Carmenere vines with Merlot, whose leaves were similar. It was, however, in the leaves that the difference was discovered: Carmenere leaves were much rougher than Merlot's. The discovery was significant because winemakers were treating Carmenere like Merlot and harvesting it much earlier than the ideal: Merlot is usually the first grape for red wine to harvest in the season while Cabernet Sauvginon and Carmenere should be the last. Although Carmenere is the uniquely Chilean varietal, it trails other important varietals, Cabernet Sauvginon and Syrah in total production by Chilean wineries.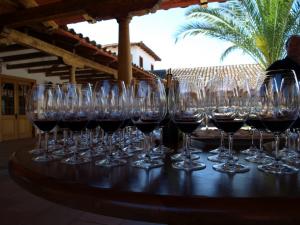 Another interesting part of the tour was getting to smell the "bung" of a barrel which was the first time we learned that the "medium toast" we have seen in each barrel is really a pretty heavily toasted smoky flavor. It's no wonder that oaked wines come out with a tobacco or leather flavor after sitting in such a smoky environment for so long.