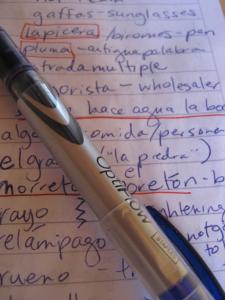 Trabalenguas: literally "tongue obstacle" or tonguetwister. A few examples:
Tres tristes tigres trigan trigo en un trigal
Mi mamá me mima mucho
Paracaídas, paraguas, rompecabezas or any other compound word: The fall stopper (parachute), water stopper (umbrella), or head breaker (puzzle).
Esposas: wives or handcuffs. Seem machista? In English we have the old ball and chain...
Tranquilo (chill/mellow) does a great job of describing all types of things.
Estrenar, tutear are nice concise verbs, to use or show something for the first time (estrenar) and to use the familiar tú form (tutear).
Ojo: this is a great gesture (pointing to your eye) or verbal warning to watch out.
Pega: snag, as in Hay una pega...
Perezoso: the adjective for lazy or the name of a lazy animal: sloth.
Pantuflas: a regional word for slippers.
Anything that ends in -ito: I love the variety of words the suffix -ito can be added to: ahorita, momentito, despacito, tontito, etc.
¿Cuáles son tus palabritas favoritas?