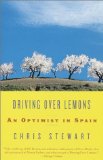 Stories of Southern Spain
Several years back I purchased this book before heading to Andalucia, one of my favorite regions of Spain. The memoir is clever, and really captures the feeling of Andalucia, with its dry hilly terrain, lemon and olive trees, and tranquilo people.
The book is written by a Chris Stewart, a British expat, who along with his wife retires and moves to a small town in Andalucia. The couple buys a farm with rugged accommodations, and try their luck at settling into their new life. With typically British humor and sarcasm, the story is a pleasure and a great accompaniment to your next Spanish trip.