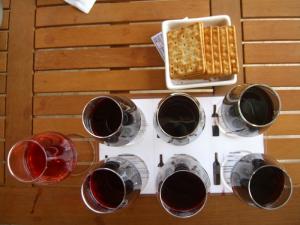 One of the more modern wineries in Mendoza, Tempus Alba combines technology with family-run pride, resulting in some delicious and affordable wines. One of the winery's main goals is to make the best Malbec in Argentina, a lofty goal where Malbec is one of the most popular varietals in Argentina. In search of the best Malbec grapes, the winery is testing and researching 370 vines to find ones that will produce a superior Malbec.
About Tempus Alba
The construction of the winery certainly took its inspiration from the natural world. Its construction materials are wood and stone while its tasting room and terrace take advantage of its beautiful location. Walking up to the entrance of the winery with it's grasses, smooth stones and minimalist walkway gave me the feeling that I was arriving in the Zen Pampa...
The winery is the fruit of 5 generations of work. The name, "Tempus Alba" means "Time of the Dawn", symbolic of the "beginning of a new day full of light, energy and hope."
Tempus Alba & Preludio Wines
You can find Tempus Alba wines in the United States under the name Preludio, but here in Argentina they are sold as Tempus Alba.
The tasting was certainly the most enjoyable part of the visit to Tempus Alba. For a reasonable charge, there are a few different tasting options, depending on what visitors are interested in trying. We opted to taste the entire line so we could really compare the wines (a good deal for 2 people). The tasting is not guided as it is in many other wineries, giving you a chance to draw you own conclusions about the wines. While enjoying the wines, we looked out at the vineyard, olive trees and in the distance, the Andes mountains.
Our favorites: 2005 Tempus Alba Malbec and 2003 Tempus Pleno (60% Malbec/40% Cabernet)