Bodega Sottano's story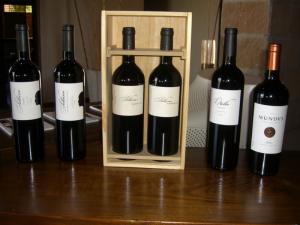 On the same road where you'll find Séptima and Ruca Malén, relatively new winery Sottano is making some great wines and is opening its doors to winery tours. The winery is a shared project of the three Sottano brothers, natives of Mendoza with Italian heritage and a family history of bulk winemaking. The winery building was designed by the brothers with the goals of fitting into the desert landscape of Mendoza and on the inside, being able to see all aspects of the winery from one place: the cellars and barrels, the tanks, the vineyard, and, of course, the beautiful Andes mountains that provide the water runoff that makes grape-growing possible in Mendoza.
Boutique Winery Collaboration
Despite the inherent sense of competition in the Argentine wine-industry and the production secrets that winemakers guard, there is a great sense of collaboration among small wineries in Mendoza. One example that our tour guide gave was that barrel makers often care more about big orders and send the leftover barrels to small wineries, so many small wineries in Mendoza have pooled their orders in order to get the same treatment as bigger wineries.
There is also a great sense of collaboration between industries, as wineries sell their leftover byproducts to produce new products like rubbing alcohol, vinegar, grappa, grape seed oil, and salts.
Sottano and Otello wines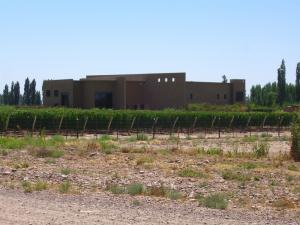 In the United States, the Sottano line is sold under the name Otello and are sold through Euro-Pacific Imports, and includes varietals Merlot, Malbec, and Cabernet. The Malbec has an interesting character, with herbal aromas and flavors. The Cabernet was nice and balanced, full and smooth, with coffee aromas.
The reserve line, including a Malbec and Cabernet are not available outside of Argentina at this point, but may be eventually. The reserve production included a longer time in newer barrels and bottle aging.
Sottano's top wine
The winery's top wine, which we didn't have the opportunity to taste, is the limited edition blend Judas. The story behind the wine is that it used to be produced with great care for family consumption, until one of the brothers "betrayed" the family by saying it should be sold outside of the family.
Our favorites
Greg: Sottano/Otello Malbec
Nikki: Sottano/Otello Cabernet and Reserve Cabernet