La Azul Winery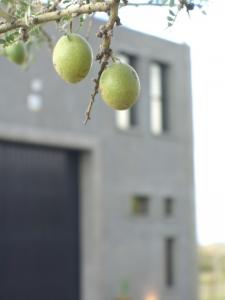 This enormously cute winery in Valley de Uco of Mendoza, Argentina, La Azul is one of the smallest production wineries we've visited. Perhaps their size allows the focus and attention needed to produce some incredible wines. Like many wineries in Mendoza, Azul is a relatively new winery in Argentina with its first wines produced in 2003.
La Azul's Vinos
The boutique winery focuses only on red wines. Its young line includes a Merlot, Malbec and Cabernet-Sauvignon, which are great value wines. The higher-tier wines are blends and include the Azul Reserva and the Azul Gran Reserva, both of which spend a significant amount of time in oak, 15 and 24 months proportionately. We had the opportunity to barrel taste the Azul Gran Reserva which was incredible. The winery produces 35,000 total bottles a year and exports about 50%, and nearly all of its Gran Reserva.
Don't expect to find a winery surrounded by its vineyard at La Azul. The winery's two separate vineyards are at higher altitudes relatively nearby the winery. The location of the winery and its construction are still incredibly picturesque. The building is symmetric and modern yet simple.